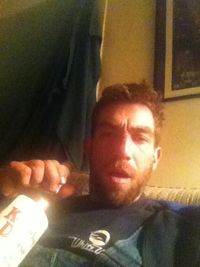 Hey Everyone! 
Want to thank each of you for signing up to stay in touch! 
These cold months have brought a whole lot of fire to the recording studio! 
Getting very excited as I plug away on the the latest tracks to finish up the "Fires & Floods" release! Should be done with Mastering this Spring!!
This Past December, I had a great time hosting Bill "Howlin' Madd" Perry and his daughter, Shy, who traveled all the way up from Mississippi, along with T-Model Ford's Grandson,Stud, for a string of shows in Colorado and New Mexico! Hitting the road with them again this Summer! 
Planning to meet back up with Stud in March to collaborate on recordings and to play some Colorado shows followed by a Dirty South Tour in April  along with fellow Rocky Mountain Hill Country Blues man, Grant Sabin. 
Now there's a hell of a picker who I have also had the pleasure to spend more time jamming with and getting to know. We've been getting up to some pretty wicked jams on collaborative shows and at my weekly gigs since this past November. 
Speaking of which,  I've been hosting a Monday night Blues Jam at the Ancient Mariner in my hometown of Manitou Springs, where I grew up learning to play at Blues Jams. Slim pickins on jam sessions around here these days. 
So, that's my wild stab at keeping it alive to provide a forum for all the next generation of blues players who need to play with others to learn the ropes. 
Also, been rocking a solo gig at  a sweet little place called Alchemy on the West side of Colorado Springs. A lot of surprise special guests have been showing up to jam, including Grant Sabin. Been like a church group for sinning every Tuesday!

In November, we threw a Birthday Party for Jimi Hendrix to honor his Legacy! Had a blast! If you missed it, no worries! My good friend  Charlie Smith, director of the "Blue Dream" documentary I mentioned in my last blog,  came in from Steamboat springs to capture the entire show in HD Film!! We are currently preparing it for upload to share with you very soon!
And by the way, YES! I spoke with Charlie the other night and he is  working his magic on the "Blue Dream" Documentary!! And, it sounds as though it's coming together nicely!

Any who, that's what's up in my world, as of late! 
I'll keep you posted on new developments and breaking news! 
Until then, be sure to check out the BRAND NEW LIVE VIDEOS on cottonstonemusic.com
Thank you all so much for all your support and for staying in touch!  
 Sincerely,  
JCS